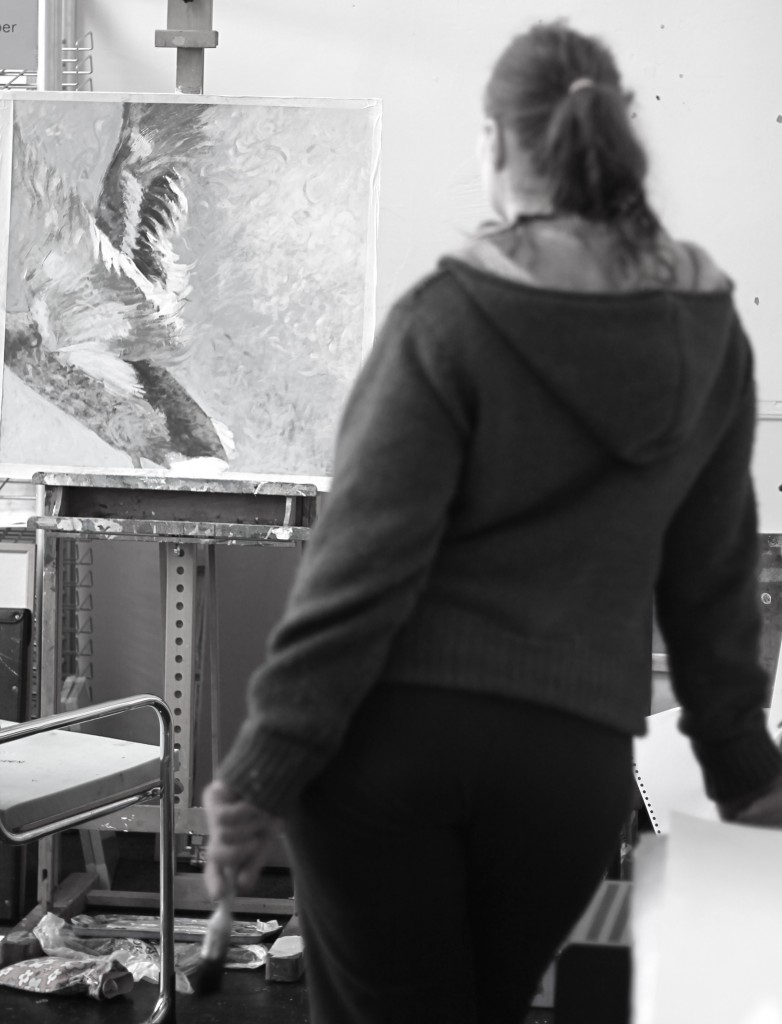 February 3rd, 2013 by
actelfer
I thought it was about time I did another post, even though I don't really have any finished artwork to show you. I do however, have a few 'w.i.ps' to present for your thoughts. The new studio is presenting me with  ideas just because of the presence of light and space. I have the freedom to do bigger and bolder things as I can get right away from the work as well as moving around a lot in the room. I have never been one for just sitting in front of an easel. I like to move around and be quite physical. So, I have been able to do this a lot more and hopefully this is translating into bigger and bolder works. I am also experimenting with acrylic again. The main difference from oils is that, apart from being water based, acrylics dry very quickly. This means I can build up layers and glazes relatively quickly and instinctively.  I have not turned my back on oils and will continue to use them. I just go through phases of stuff. Over the summer it was all about the pen and ink, the winter was more oily and now I'm in acrylic mode.
Another influence in the studio is the presence of two fellow artists. Sometimes it can be inhibiting if I fret that they are going to walk through the door any second and catch me leaping around to Aretha Franklin or playing air violin to Vivaldi – try it, its brilliant fun – but I'm trying not to think about it and not be so inhibited. If they catch me they catch me and the worst that will happen is that they will have a good laugh. I am also trying not to be so precious about them seeing me work, or seeing unfinished work. This is harder! They also  bring a different perspective. Ian (found art sculptor/actor/compere) has a brilliant sense of humour that affects – positively – everything he does and his suggestions are always slightly off the wall and different and I love being challenged to think in that different way. It's helping me to be more adventurous. Matt (photographer/printer/teacher) has a wonderful and instinctive sense of composition and just seeing and discussing how a different crop can change the tension in a picture has encouraged me to have the courage of my convictions and not be too bound by traditional theories. Who knows, they may end up being bigger influences on me than Piero Della Francesca! If you are interested in what other artists I find inspiring,  look at my 'other artists work' board on Pinterest.

And finally to the actual pictures. In order of commencement (and working titles at the moment): 1. Take Off. Acrylic on card, about 24″ x 24″. At one point it did have a head, but I chopped it off! 2. Startled II. Acrylic on card, about 24″ x 30″. 3. Snowy Sheep Rush. Acrylic on canvas. These sheep were plodding up the field to their usual feeding spot when suddenly they realised that the farmer had come to the other side because of the snow and they just 'legged it' in the opposite direction. It was like watching the Derby! I have also started another one of this, also in acrylic but building up in a different way. More details in a future post.
And here are some close ups, but in colour.

2 responses to "Pushing the Envelope – or rather the Paintbrush"